All art here ©2004 Thalia Took, aka The Artist Formerly Known As Mary Crane.
You are free to borrow the images here for your own personal or religious use. If you use any on your personal
non-commercial website, please credit the work to Thalia Took. If you can link back to this site, I'd appreciate it.
Always ask permission first
for any other requests for use of this art.
Questions or comments? E-mail
me
.
THE GODS
In the name of balance I decided to make a deck of God cards, to explore the masculine side of divinity. (A transgendered friend jokingly asked if I was also going to make a set of deities of indeterminate gender. Well, I just might.) This is a work in progress, and I plan to upload them as they are completed. I would like to do 80 of these, which is a nice square number and a good complement to the goddesses' 81 cards.
The medium is scratchboard and acrylic paints, and their actual size measures three by three and a half inches.
Anubis
Apollo
Avalokitesvara
Cernunnos
Dionysos
The Green Man NEW!!
Gwyn ap Nudd
Hermes
Krishna
Lemminkaïnen
Loki
Manannán
Osiris
Pan
Zeus
This design is available on a myriad of products over at the Cat and Cauldron. Requests? Ideas? Drop me a line.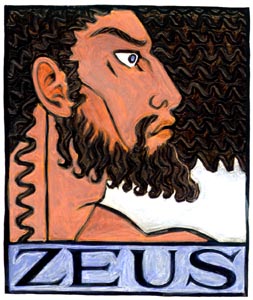 Zeus, the Greek King of the Gods