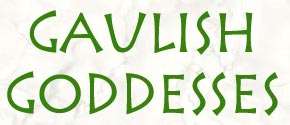 Gaulish, aka Continental Celtic Goddesses. Some only known from a single inscription, and those necessarily from Roman times, as the peoples of Gaul did not use written language before the Romans (or something like that). How to separate these out? Should the British stuff get included here? There is going to be quite a bit of overlap, I think. Probably more appropriate to link, so some of these are British Goddesses that link to the article on the British page. Something like that. It's tricky because it's not only location which overlaps with other things, like Germanic and British Goddesses, but it's also in time; these are early, from the time of (and before, presumably) the Roman occupation. But like Bouvinda (assuming that's a Goddess, and not just the river name) is ultimately the same Goddess as Boann several hundred years later. Same thing with Cathubodua and Badb Catha. Two articles, or just one? If it's the same Goddess...
Abnoba, Acionna, Adsullata, Aeracura, Aerfon, Alauina, Albiorica, Ancamna, Ancasta, Andarta, Annea Clivana, Apadeva, Arduinna, Artio, Aufaniae, Avantia, Aveta, Axona.
Baginae, Belisama, Belisma, Berecynthia, Bergonia, Bergusia, Bodua, Bormana, Borvonia, Boudina, Braciaca, Bricta, Brigantia, Brigindo, Brixia.
Caiva, Campestres, Candida, Carpunda, Cathubodua, Celeia, Cissonia, Clutoida, Crawnon.
Damona, Dea Malvisae, Dea Matres, Dea Matrona, Dea Nutrix, Dea Quadriviae, Dervonnae, Deva, Dexsiva, Dirona, Divona, Domesticae, Dunisia.
Glanicae, Gontia, Griselicae.
Herecura.
Ialona, Ianuaria, Icotiae, Icovellauna, Iethon, Inciona.
Junones.
Laha, Lamiae Tres, Lata, Lerina, Litavis.
Mairae, Matres, Matres Almahabae, Matres Comedovae, Matres Gerudatiae, Matres Griselicae, Matres Nemausicae, Matres Suleviae, Matrona, Matronae Alhiahenae, Matronae Andrustehiae, Matronae Audrinehae, Matronae Aufaniae, Matronae Axsinginehae, Matronae Fernovinehae, Matronae Udravarinehae, Matronae Vacallinaehae, Matronae Vallabneihae, Meduna, Menmandutae, Mogontia.
Nantosuelta, Naria, Nehalennia, Nemetiales Matres, Nemetona, Niskai, Noreia, Noriceia.
Obelenses Matres, Olatonae, Onuava.
Perta, Proxumae.
Ratis, Ricoria, Rigantona, Ritona, Rosmerta.
Sequana, Silvanae, Sirona, Solimara, Souconna, Stanna, Sulivae.
Tangonae Matres, Tarannon, Telo, Temusio, Thucolis, Trittia, Tutela Boudiga.
Veica, Vercana, Visucia.
Xulsigiae.