The Black Virgin, or the Black Madonna, is a widespread dark version of the Christian Virgin Mary. She is associated with the worship of Kybele, the Roman Great Goddess whose statue incorporated a black meteorite, and Isis, the Egyptian Great Mother. The image of Isis suckling the child Horus became the basis for depictions of the Christian Virgin and Child. Ezili (or Erzulie) Danto, a Vodou lwa or spirit of Love who is shown as a Black Madonna, is linked with Our Lady of Mount Carmel. Black Madonnas can be found in France, Poland, Italy, Spain, the Caribbean, Mexico, and many other places.
The Black Virgin represents old and ancient ideas hidden under new guises. She is still here, if you will look for Her.

This design available on t-shirts, greeting cards, framed prints, and more over at The Cat and Cauldron. Ideas or requests? Email me.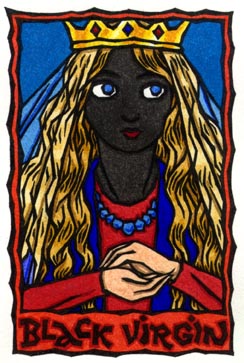 "I see through ancient eyes."