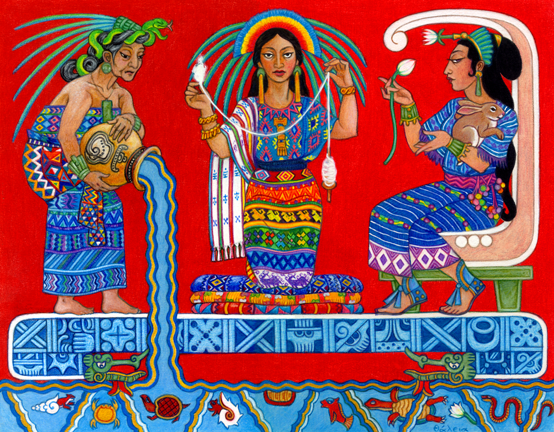 Ix Chel is the Maya Goddess of the Moon, Water, Weaving and Childbirth. She is shown here in three of Her many aspects. Left to right: Chak Chel, the Old Moon Goddess, called the Midwife of Creation; Ix Chel in Her main form as Mother Goddess and Weaver who set the Universe in motion; and the Young Moon Goddess, shown with Her totem animal the rabbit.
Ix Chel is a great Water Goddess, the consort of the chief God of the Maya pantheon, Votan. Her name means "Lady Rainbow", and She is said to have founded the city of Palenque at the command of the Gods. She is a Weaver Goddess, whose whirling drop spindle is said to be at the center of the motion of the Universe. She has many aspects and titles, such as Ix Kanleom, the "Spider's Web Catching the Morning Dew", and Ix Chebal Yax. Her Nahua (Mexican/Aztec) counterpart is said to be Chalchiuhtlicue.
Chak Chel, "Great (or Red) Rainbow" is the Goddess Who brings about the destruction of the third creation by causing a great flood. By pouring the waters from Her jar, She prepared the way for the next age, known in Maya legend as the Fourth Sun. She is shown as an old midwife, for experienced elderly women helped younger women to give birth, and were traditionally caretakers of children. Chak Chel also helped the Maize God to be reborn, and helped in the birth of His own sons. She is shown in a pose traditional to Her, with the twisted hair-do of elderly women (though they usually wrapped it up with a strip of cloth rather than a snake).
The Young Moon Goddess may have originally been a different Goddess of the Moon who was later absorbed into Ix Chel's legend. She is often depicted with a rabbit, for the Maya, like the Chinese, saw a rabbit in the markings on the face of the Moon. She is said to be of a merry and somewhat loose character, and rabbits are also famed for their reproductive abilities. She (as Ix Chel) had a great shrine on the island of Cozumel to which pilgrims came from all over. The crescent-shaped chair on which She sits is the Maya glyph for the Moon, Her symbol.
Ix Chel is shown here in modern Maya traditional clothing featuring the astonishing gorgeous handwoven textiles still made in remote areas of Maya country (mostly modern-day Guatemala). She sits upon a Sky-Bar, known from Maya glyphs and carvings and used as a symbol of the sky; figures drawn above or over the Sky-Bar are usually deities, or the dead. Chak Chel pours water from a jar marked with the glyph for water, and the color scheme and water critters are after the beautiful Maya-style frescoes found at Cacaxtla, Mexico.
This design is available on prints through deviantArt and greeting cards through Zazzle.