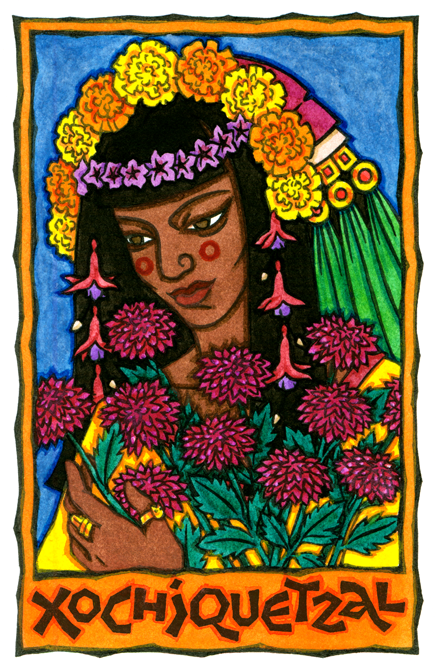 Embroider your life with beauty.

Xochiquetzal is the Aztec Goddess of flowers and the creative arts. Her name is made up of two components in Nahuatl, the language of the Aztecs, xochi, 'flower', and quetzal, 'feather' or 'precious thing', especially the feathers of the bird called the quetzal, which has long green-blue iridescent tail feathers which were much used by the Aztecs in ornament.
Her mother is Tlazolteotl, the Aztec Goddess of the earth (or filth); like Her mother, Xochiquetzal was associated with sexuality and fertility. She is patroness of the arts that were the traditional realm of women, weaving and embroidery.
She is of course traditionally shown with flowers, or with flowers embroidered on Her garments; I have painted Her here with marigolds, fuchsia, and petunias, all of which are native to Mexico. She is holding a bouquet of dahlias, the national flower of Mexico, and in Her headdress are quetzal-feathers.
She was also called Ichpochtli, or 'maiden'.
This design is available on prints at Society 6.