All art here ©2004 Thalia Took, aka The Artist Formerly Known As Mary Crane.
You are free to borrow the images here for your own personal or religious use. If you use any on your personal
non-commercial website, please credit the work to Thalia Took. If you can link back to this site, I'd appreciate it.
Always ask permission first
for any other requests for use of this art.
Questions or comments? E-mail
me
.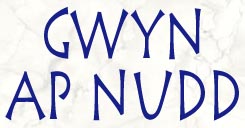 Gwyn ap Nudd is the Welsh God of the Underworld, said to live in the hollow hill of Glastonbury Tor. His name means "White" (or "Holy"), and He is the son of Nudd. He is the leader of the Wild Hunt, that rides through the skies on rainy autumn nights, and He is traditionally described as having a blackened face.

Now available as a print.
This design available on a myriad of products over at The Cat and Cauldron Shop. Requests? Ideas? Drop me a line.