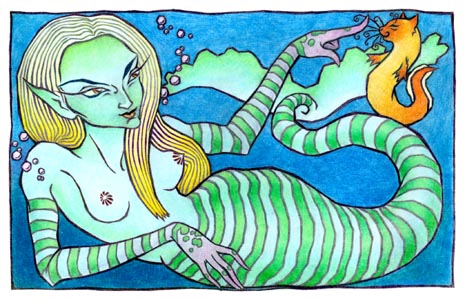 A stripey mermaid with a salmon-point Siamese catfish! Colored pencil.
This design available on a myriad of products over at the Cat and Cauldron including t-shirts, tote bags, framed prints, greeting card sets, stickers and more!

All art here ©2004 Thalia Took, aka The Artist Formerly Known As Mary Crane.
You are free to borrow the images here for your own personal or religious use. If you use any on your
personal non-commercial website, please credit the work to Thalia Took.
If you can link back to this site, I'd appreciate it. Always ask permission first for any other requests for use of this art.
Obscure Goddess Online Directory text ©2006 Thalia Took, and please do not reproduce it.
Questions or comments? E-mail me.