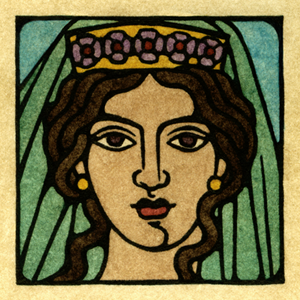 Li'l Juno in ink and watercolor; the original is
only an inch and a half square!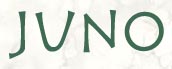 Juno, or to spell it the Latin way, Iuno, is the Roman Great Goddess, the Queen of the Gods, sky-Goddess, protectress of women, mother of Mars, wife of Jupiter, She of the many epithets and a long long history of worship in Rome. She was one of the Capitoline Triad, with Jupiter and Minerva, Who were considered the three main Deities of Rome; She was widely worshipped among the Latins, and Her cult was also important among the Etruscans, who called Her Uni or Cupra. She was an especial protectress of women in marriage and childbirth, and many of Her epithets relate to that aspect, but She could also have a more civic or martial character as protectress of the Roman people.
Juno's name may derive from an Indo-European root with connotations of vitality and youth, and if so would suggest that Her aspect as Birth-Goddess is one of Her oldest. Alternatively, Her name may come from the Etruscan Uni, which means "She Who Gives", and which would refer to Her capacity as a benevolent Goddess of abundance who answers the prayers of those in need.
As each man was believed to have a protective guardian spirit called a genius, so each woman had one called a juno. These guardian spirits (in the plural, junones) may have originally been the ghosts of the ancestors who were believed to watch over and protect their descendents. They were usually represented as snakes (probably relating to the chthonic or underworld aspect of the Dead), and were given offerings on the individual's birthday at the household altar.
The first days of each Roman month, the calends, were sacred to Juno, as was the entire month of June, which is still named for Her. Five cities in Latium (the region of the Latin tribe) also named a month for Her: Aricia, on the Via Appia; Lanuvium, where She was worshipped as Juno Sospita ("Juno the Saviouress"), Praeneste (modern Palestrina), Tibur (modern Tivoli, the resort town of Rome), and Laurentum, located between Lavinium and Ostia on the coast. And as Juno is the Roman Goddess of Marriage, it is no coincidence that June is still considered the proper month for weddings.
Like Jupiter, Juno was believed to have the ability to throw thunderbolts.
Also called: Junonis or Iuno.
Here, then, is the index for as many of Her aspects as I could find, treated individually; they range from simply descriptive titles such as Conciliatrix that may not have had a use in Her cult, to the more important and unusual facets of Her like Caprotina, all the way to separate Goddesses Who were assimilated to or equated with Juno, such as the Dea Caelestis of Carthage.
Abeona, Adiona, Caelestis, Caprotina, Cinxia, Conciliatrix, Conservatrix, Cuba, Cunina, Cupra, Curiatia, Curitis, Comiduca, Dea Caelestis, Dea Statina, Domiduca, Educa, Edulica, Empanada, Februtis, Fluonia, Gamelia, Inferna, Interduca, Juga, Jugalis, Juno of Falerii, Lacinia, Lanuvina, Levana, Lucetia, Lucina, Martialis, Maturna, Matrona, Moneta, Nacio, Natalis, Nundina, Nutrix, Nuxia, Opigena, Ossipaga, Panda, Perficia, Pertunda, Perusina, Populonia, Potina, Prema, Pronuba, Quiritis, Regina, Rumina, Seispita, Sispes, Sororia, Sospita, Supra, Uni, Unxia, Vagitanus, Virginalis, Viriplaca, Volumna.