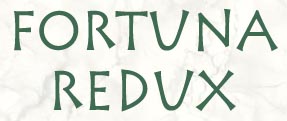 Fortuna Redux, one of the many aspects of the Roman Goddess of luck, Fortuna, was in charge of bringing people home safely, primarily from wars—redux means "coming back" or "returning". She may be one of the later aspects of Fortuna, as the earliest mention of Her is of an altar dedicated by the Senate in 19 BCE for the safe return of the Emperor Augustus. This altar was located near the porta Capena, a gate in the old Servian wall not far from the grove of the Camenae, and at this altar rites were performed by the priests and Vestal Virgins during the Augustalia, games celebrated in honor of Augustus on his birthday on October 12th. Though usually it is only temples that are known to have a dedication date, this altar was considered special enough that its dedication date of the 15th of December was recorded.
She had a temple in Rome in the Campus Martius, a swampy area down by the Tiber dedicated to Mars that had once been used for the assembly of soldiers. The temple to Fortuna Redux there was built by the Emperor Domitian sometime around 93 CE after he had safely returned home from a war in Germany.
Fortuna Redux may have started as a Goddess who primarily made sure the Emperor got home alive, but it seems it was not long before She was invoked to bring others home safely, especially soldiers, as one might expect. Several altars dedicated to Her have been found in Brittania, the frontier of the Empire, especially in the area up by Hadrian's Wall, the very northern limit of Rome's power. They commonly come from military bath-houses, and She is sometimes mentioned along with Fortuna Salutaris ("Health-bringing Fortune") and Fortuna Balnearis ("Fortuna of the Bath-House"). At the Roman fort of Cilurnum on Hadrian's Wall (the modern Chesters, Northumbria, England), Fortuna Redux shared an altar with Aesculapius, the God of Health (the Greek Asklepios); and Her company on these altars imply that She was considered a Goddess who had healing powers, or who at least had the power to preserve health and wholeness, so that Her worshippers would be able to come home.
A related aspect of the Goddess of Chance, Fortuna Restitutrix, was also concerned with the health and saftey of soldiers. Her title means "She Who Restores", which can also be translated like Redux as "She Who Brings Back", and She was evidentally worshipped by the military. An altar to Fortuna Restitutrix has been found in the Castra Praetoria, the barracks of the Praetorian guard in Rome, built in the first century CE, about the time Fortuna Redux seems to have come about. Her altar was in a room in the northern part of the barracks set with a black and white mosaic floor.
Also called: Fortuna Reduci, "Fortune Returns"; She is depicted on coins with a wheel, sometimes the emblem of Nemesis, Greek Goddess of retribution, law and justice.