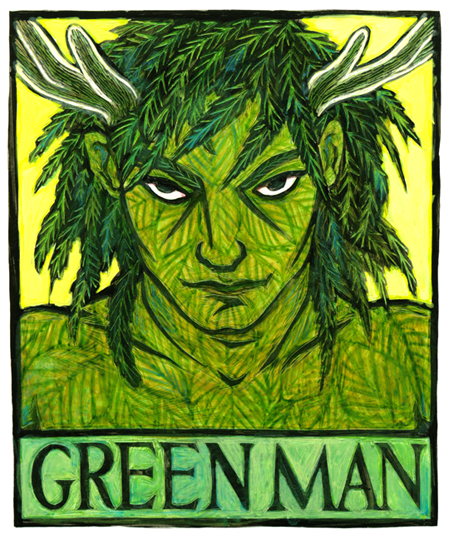 The Green Man is a God or spirit of vegetation and plant growth, especially that of springtime. He is associated with the holiday of Beltaine, on May 1st, and He is the counterpart to the May Queen. He is frequently found carved into medieval churches as a sort of gargoyle, His face made from foliage, or with leaves sprouting from His eyes or mouth.
He is shown here bearing a pair of antlers: deer shed and regrow their horns each year, and in the springtime the new antlers are covered in a fuzzy skin called velvet which brings blood and nutrients to the quickly-growing horns. The growth of antlers in spring symbolizes the new growth in the plant world, especially the trees, as they look a lot like branches. The Green Man is shown here in the velvet antlers of springtime.
This design is available on prints through deviantArt and on greeting cards through Zazzle.