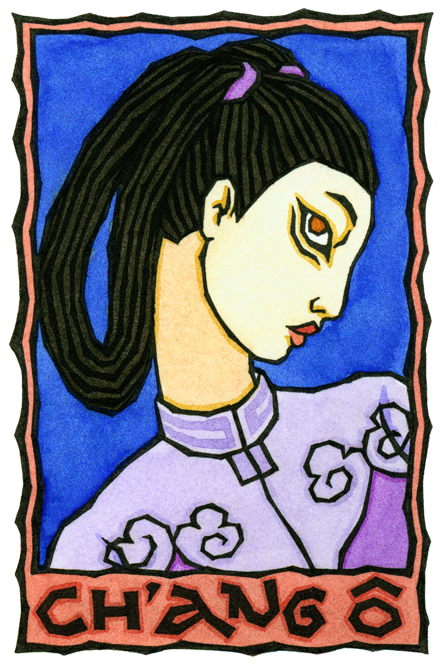 I am the flight of the hare.

Ch'ang Ô is the Chinese moon Goddess, the younger sister of the Water Spirit. Her husband Shên I, the "Excellent Archer," was given the drug of immortality by the gods. Ch'ang Ô discovered the pill which Her husband had hidden. Not knowing what it was, but seduced by its delicious fragrance, She ate it. Suddenly She found She could fly. Just then Shên I came home, and realizing what She had done, She fled from Him, up into the sky, until finally She reached the Moon--a glowing white sphere, very cold, with no life save a forest of cinnamon trees. Here She made Her new home.
Her husband in the meantime had come to realize that Ch'ang Ô's destiny was to be the Goddess of the Moon, as His was to be God of the Sun. He was made immortal also, and given a great house on the surface of the Sun. When He came to visit Cha'ng Ô on the Moon She was afraid at first, but He explained He was no longer angry with Her, and They were reconciled. He built Her a palace of cinnamon-wood and precious stones, and is said to visit Her on the fifteenth day of each month, when the Moon is full.
Some say She was transformed into a three-legged toad, the three legs representing the three ten-day phases of the Moon.
Ch'ang Ô is often depicted with a hare, and the Hare of the Moon can still be seen traced on the surface of the full Moon. She represents the source of yin, the female principle, as Her husband symbolizes yang, the masculine.
This card in a reading can indicate misunderstanding and fear, which can be cleared up or assuaged through good communication.
Alternate names: Hêng Ô, Chang E, T'ai-yin Huang-chin ("The Moon Queen"), Yuehfu Ch'ang Ô ("Ch'ang Ô of the Lunar Palace").
To read Her tale, go here.
This design is available on prints through Society 6 and on greeting cards through Zazzle.