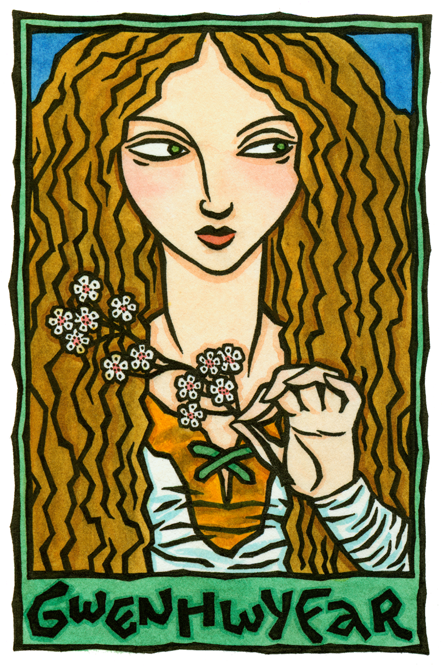 Are we to go a-riding?
We will make love beneath the hawthorn tree,
and my cries shall shake loose the petals.

Gwenhwyfar is the Welsh predecessor of Queen Guinevere, the wife of King Arthur. Her name means "White Phantom." In the tale of Culhwch and Olwen, She is said to have a sister, Gwenhwyach. In the medieval Vita Merlini (Life of Merlin), the magician is married to the Guenevere-like Guendoloena, a woman who, like Blodeuwedd, is made from flowers.
Gwenhwyfar embodies the land, and union with her gives kings their right of rule. Her two lovers, Arthur and Lancelot, represent two aspects of the Divine ruler--the old, impotent King and his young tanist, or replacement. As a sovereignty figure, Guinevere is forever being seized by one knight or other with his eye on the throne. The evil Mordred, in Arthur's absence, claims the kingship. He does this not as the son of Arthur, but as husband of Guinevere, who he attempts to force into marriage with him.
She is depicted here as the Queen of May, or the Goddess in Her aspect of lover or betrothed, holding a branch of hawthorn. By some accounts She is of triple form, all wives of Arthur, and daughters of the Gods of death and light.
This card in a reading indicates a merry time, as the month of May brings beautiful new growth and blossoming. Intrigues and lovers swirl around you, and seduction is in the air.
Variant spellings: Gwenhwyvar, Guinevere
Pronunciation: gwen HOOEE var
This design is available on prints through Society 6 and on greeting cards at Zazzle.