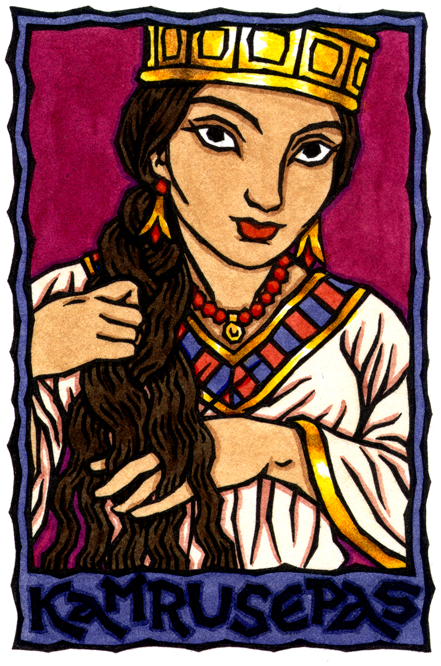 Be kind to yourself!
Kamrusepas is a healer Goddess of the Hittites, a people who lived in Asia Minor (modern day Turkey) and northern Syria, around 2000-1200BCE (when they were conquered by the Egyptians under Ramesses II). The Hittite pantheon of "the Thousand Gods" came to include Deities from many neighboring pantheons, such as those of Sumeria and Babylon, Assyria, and even India. Kamrusepas "the Mother" was known as a powerful magician and healer, Who could heal paralysis and cure illness by "loosening that which is bound."
According to legend, Kamrusepas was responsible for healing the agriculture and fertility God Telepinu of His anger. In His rage He had withdrawn from the world, taking all His possessions with Him. Without His life-giving gifts, nothing on Earth or the world of the Gods would grow. Fires could not be lit, plants and animals died, and even the Gods starved. On the orders of the Mother Goddess Hannahannas, a bee was sent to sting Telepinu and goad Him from hiding. This, naturally enough, did not do much for His temper, and when He returned, Kamrusepas performed a complex ritual, calming the God with honey and fruits, and banishing His anger to the Underworld.
Kamrusepas is shown here combing out Her braid to prepare to work Her healing magic. Symbolically, hair represents energy and the life-force, shown in the tradition by which witches were reputed to bring wind or storms by brushing their hair. This unbinding is also meant to show how the metaphor of paralysis can be healed, by carefully untangling a situation and letting go what needs to go.
Drawing this card in a reading indicates that a situation that is stubbornly stuck can be freed up by working with the ideas of relaxation and release, and that healing flows best when you are comfortable and calm and open to the energy of the Universe. Also, keep in mind that an attitude of nourishing sweetness can do wonders.
Alternate names: Katahzippuri, Katahzipuri, Kamrushepash, Kammarushepash
This design is available on prints through Society 6 and on greeting cards at Zazzle.