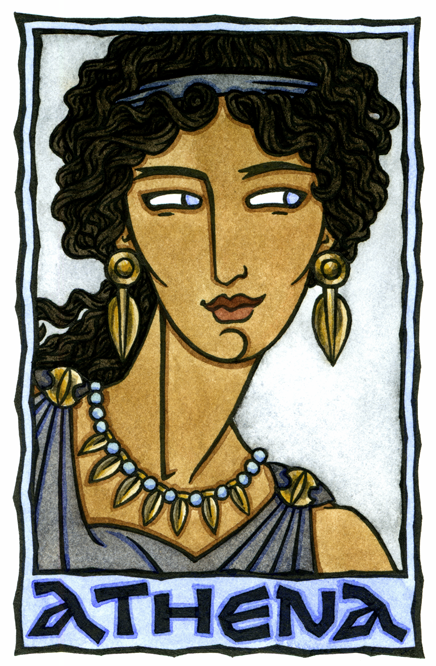 Cup your ear to the heart of wisdom.

Goddess of war and peace, wisdom and ethics, Athena was the state Goddess of Athens. She is an inventor and artisan, the Goddess of order and bringer of civilization. Though a war Goddess, She participates only to defend right order and to bring justice. Her clear thinking and quick mind have brought many benefits to mankind, including the olive and its precious oil. According to legend, She contested with Poseidon for the control of Athens. Poseidon struck a rock on the Akropolis with His trident, and a spring of salty water flowed forth. Athena's gift was the olive tree, and in the temple of the Erechtheum on the Akropolis both the trident-mark and the tree are there to this day.
Athena is associated with lightning and storms, hence the spear (representing the lightning) and Her famous brilliant eyes, which earned Her the epithet Oxyderkes, the "Bright-Eyed." Birds as creatures of the air are Hers as well, especially the owl, with its bright eyes and reputation for wisdom.
Athena brings strength and wisdom, and aid in determining the best course--consult Her in a situation when you are not sure whether to use diplomacy or if the time has come to fight.
Some of Her many, many, epithets include: Polias ("of the City"), Parthenos ("Girl"), Promachos ("Champion"), Ergane ("Worker"), and Nike ("Victory").
I recently did this one over, in a more trickstery vein (and make no mistake, Athena is quite certainly a trickster); for the older, more martial version, go here. And for other renditions of Athena, go here, and for a rendition of Athena Glaukopis, here. Yeah, She's definitely a Goddess Who calls to me.
To read her tale, go here.
Both this design and the earlier version are available on prints through Society 6 (the earlier version here, and the newer one here) and on greeting cards at Zazzle (the older here, the newer here).