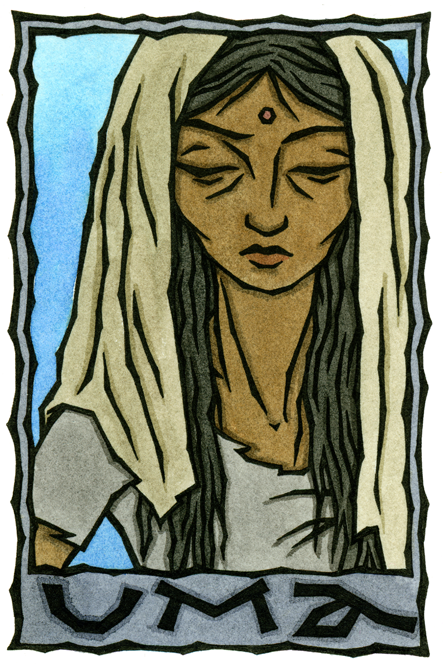 Your name is a prayer.

Uma is one aspect of the Great Goddess of Indian mythology known as Devi ("the Goddess"). She is usually considered Siva's wife, and can take several forms, from the gentle Parvati to the fierce Durga to the destroyer Kali.
Parvati's husband, Siva, the God of ascetics, spent so much of His time meditating that He frequently ignored His wife. One day while He was meditating She came up behind Him and playfully put Her hands over His eyes. At this the light of the world went out, and in response a blazing third eye opened on Siva's forehead, sprouting flames which caught the whole Himilayan range on fire. In horror Parvati pleaded with Him to restore things, which He did with a word.
Another story tells that Parvati finally got tired of being ignored by Her husband, and left Her home to become a wandering hermit. She practiced such harsh self-denial, that eventually Her husband, as God of ascetics, had to receive Her as His most devoted worshipper, and They were reconciled.
Her name is said to have been given to Her by Her mother, who upon learning of Parvati's plan to practice extreme self-denial, cried out, "U! Ma!" which means "Oh! Don't!" Alternately, Uma is said to mean "Light," or "The Peace of Night."
Uma in a reading indicates self-sacrifice born of love. As the Shakti of Siva, the female to His male, She represents the power of light, which illumines and makes understanding possible. In temporarily disregarding Her own needs, She is able to see more clearly.
Other forms: Kali the Black; Durga the Inaccessible; Bhairavi the Terrible; Ambika the Genatrix; Gauri the Brilliant; Sati the Dawn Goddess.
This design is available on prints through Society 6.