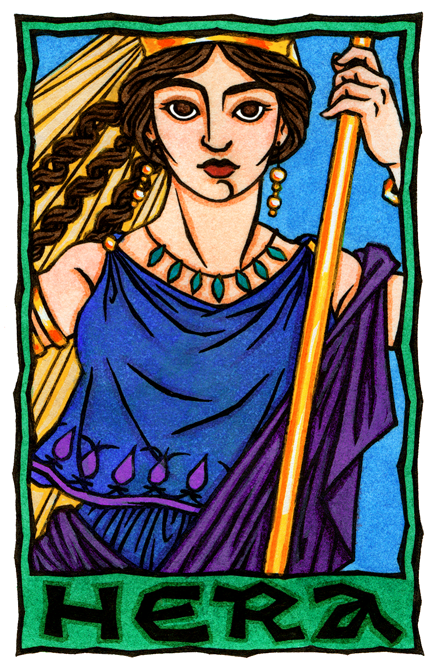 I am the sovereign of all that is mine.

Hera is the Greek Goddess of the sky and queen of the Gods, and one of the twelve Olympians. Her name is said to derive from a root meaning "sky." She was originally a powerful Goddess and was only joined with Zeus when invaders brought His worship into Greece.
She is a Goddess of women and of marriage and childbirth. She is decribed as very beautiful and queenly, virtuous and faithful to Her husband. Her worship was widespread, with many temples and festivals dedicated to Her.
Hera was the oldest daughter of Kronos and Rhea, and sister and wife (i.e. the equal) of Zeus. She was seduced by Her brother, who pursued Her unsuccessfully for some time. Finally He came to Her as a little cuckoo, nearly frozen with cold, and taking pity on it She held it to Her. He then resumed His usual shape and attempted to ravish Her; She resisted, until He promised to marry Her. Such beginnings did not bode well, and married life did nothing to slow Zeus's numerous affairs.
Their marriage was notoriously unhappy and Hera vented Her rage by punishing Her husband's paramours. Zeus was known to beat Hera and on one occasion suspended Her from the sky and hung anvils from Her ankles, as punishment for leading a plot to overthrow Him.
Her children by Zeus were Ares, Hephaestos and Hebe. Other children were Eilithyia, Goddess of childbirth, the she-dragon Python, who guarded the oracular shrine at Delphi, and the monster Typhon (though some say Gaea was Typhon's mother).
Alternate spellings: Here
Ephithets: Prodomia ("Guide"), Anthea ("Flowery"), Hyperkheiria ("Protectress"), Ox-eyed, White-armed.
This is the second version of this card, which I did for SageWoman Magazine back in the day; the older version is here.
Both this design and the earlier version are available on prints (the older one here, the newer here) through Society 6 and on greeting cards (older, and newer versions) at Zazzle.