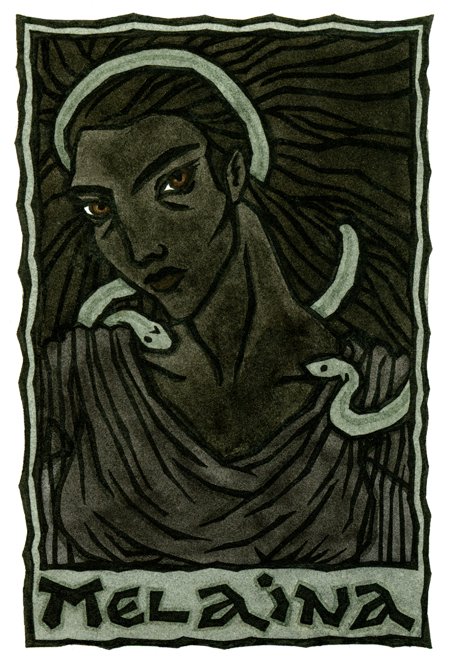 I am the devouring Earth.

Melaina ("The Black One") is the under-earth or chthonic aspect of the Greek Great Goddess, said to bring nightmares. Different Goddesses are called by Her name.
Aphrodite Melainis represents a dark aspect of the Goddess of love as underworld Deity, though some say She is called "Black" because love-making often takes place at night.
The underworld Goddess Melinoe was considered the daughter of Persephone (Kore) and Hades, queen and king of the underworld. She was called Khthonia, "Of the Lower World", a name also applied to Demeter. She was said to be half dark and half light (like Hel), from Her dark father Hades and Her mother who represented light. She walked the earth after dark bringing fear and night terrors. As Persephone is considered to be a form of Demeter as death Goddess, so Melinoe should probably be seen as another underworld aspect of the Greek Great Goddess.
Melaina is also the epithet of Demeter Herself as an underworld Goddess, and in this respect was also called Khthonia. A cave on Mount Elaios near the Attican town of Phigalia was sacred to Her. In Her long search for Her abducted daughter Kore, Demeter turned Herself into a mare to escape the attentions of Poseidon. But Poseidon found Her, and as a stallion He raped Her. She then gave birth to a daughter called Despoine, "the Mistress" after which She wore black and shut Herself in the cave.
Her statue in the cave near Phigalia showed Her as a seated woman with a horse's head, snakes and monsters growing from Her hair. In one hand She held a dolphin, in the other a dove. In this form She was called Mare-Headed Demeter.
This card in a reading indicates supressed anger or fears. Nightmares may haunt you, and if so they should be taken as a warning or "heads-up" indicating some buried issues need attention.
Alternate names: Melaena, Melainis, Melinoe
This design is available on prints.