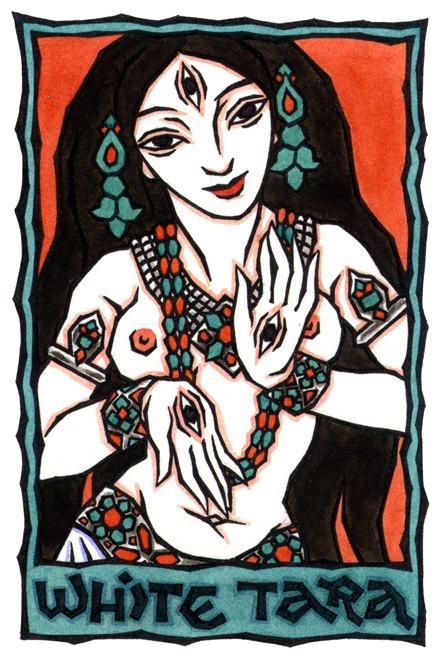 Never fear! I am here to aid you!

White Tara is a form of the Goddess Tara ("the Saviouress"), a Buddhist bodhisattva of compassion born from the tears, or a lotus-flower that grew from the tears of Avalokitesvara. Her primary form is Green Tara. As White Tara She is very popular as well, and is said to grant long life. Tara White as the Autumn Moon represents Wisdom, for the moon is the symbol of wisdom in Buddhist Tantra.
White Tara is known as Sitatara, Her seven eyes representing all-seeing compassion. In addition to the eyes in their usual place on Her face, She has another on Her forehead, two on the palms of Her hands, and two on the soles of Her feet. Her right hand is shown in the mudra (ritual hand-gesture) of boon-giving, while Her left hand banishes fear.
She is shown here wearing traditional Tibetan ornaments of silver, turquoise and coral.
Tara is known to have had several recognized emanations in Tibetan lore, including the Chinese princess Wencheng Kungchu, whose husband was the seventh century Tibetan king Songtsen Gampo. She converted him to Buddhism, and is said to have founded the Ramoche temple in Lhasa.
This card in a reading indicates compassion and wisdom. Your perceptive abilities, empathy and insight are strong at this time.
This design is available on prints.