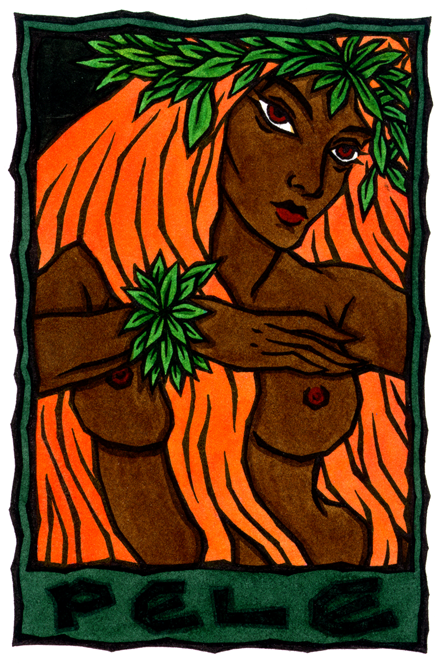 I was here before life existed.
I shall be here after its extinction.
Pele is the great Hawai'ian volcano Goddess, who is said to live within the crater of the volcano Kilauea, located on the Big Island of Hawai'i. Kilauea (whose name means "Spreading"), has had 61 eruptions in historical times, including the one that began in 1983 and is still ongoing. It is one of the most active volcanoes in the world, perhaps THE most active. The area of Kilauea makes for more than 13% of the area of the island of Hawai'i, and the volcano has added more than 70 acres of new land since the current eruption began.
Pele is said to have originally come from Tahiti, fleeing the wrath of Her older sister Na-maka-o-kaha'i, whose husband Pele had seduced. When She arrived at the Hawai'ian archipelago She searched for a new home, but pursued by Her sister She was driven south and eastwards--which is also the order in which the islands were created, geologically, as the earth's crust crept slowly over a fixed "hotspot" in the earth's interior. Na-maka-o-kaha'i, as Goddess of the sea and waters continually flooded Pele's efforts to establish Her home, until finally the mountain of Mauna Loa on Hawai'i proved too large to be flooded, and Pele was able to make Her home there.
Pele has many brothers and sisters, but Her favorite is Her younger sister Hi'iaka, patroness of the hula, though they too quarrelled over a man. Pele is well-known for Her fiery temper and Her many lovers and rivals, quite a few of whom met unlucky and incandescent ends. She is still (not surprisingly) given much respect on the islands of Hawai'i, and traditionally She may be appeased by offerings of 'ohelo berries or gin.
Pele is said to appear in many forms--as a beautiful young woman, an athlete who competes against mortal chieftains, or a fiery-eyed old woman dressed in white. In this form, She has even acquired somewhat of an urban legend: the tale goes that drivers on the road that cuts through Kilauea National Park will sometimes come upon an old lady all in white. She bums a ride and a cigarette, but later, when the driver turns to speak to her, she has vanished.
Pele in a reading indicates great energy and destruction. However, Her destruction also creates, as volcanoes create new land, and returning wildlife quickly colonises the fertile ash.
Also called: Madame Pele, Pele-honua-mea "Woman of the Sacred Land," Pele-ai-honua "Eater of the Land," Hina-hanaia'i-ka-malama "The Woman Who Worked in the Moon," who is Pele in Her human form.
This design is available on prints through Society 6.