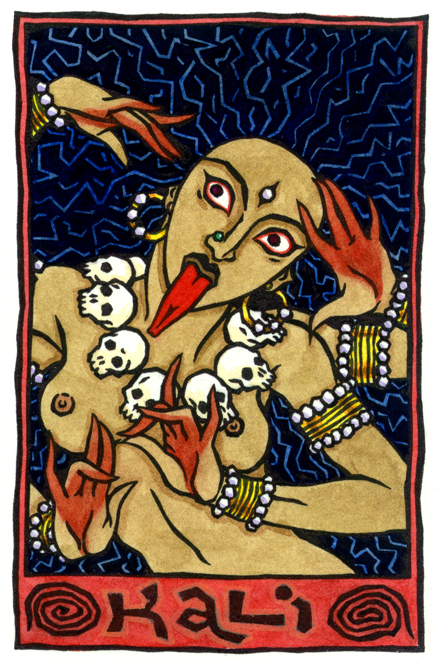 I devour this Age of Man!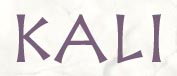 Kali ("the Black Goddess") is the destroying form of Devi ("Goddess"), the Indian Great Goddess. Her power and prominence show mythological roots in the matriarchal Dravidian past.
As Kali, the Goddess fought with Raktavija, the lord of the Asuras (Demons). But for every drop of Raktavija's blood that touched the Earth, a thousand demons sprang up. Kali in Her divine madness solved this by licking up every drop of His blood with Her tongue, and won the day. Wild with joy, She continued to dance Her dance of destruction until the Gods begged Her to stop; but She did not listen. Finally Her husband Shiva came to implore Her--still crazed, She did not recognize Him and instead threw Him on the floor with the corpses and danced over Him.
Kali represents all-devouring Time. In Hindu myth, the aeons of the Universe are divided into four yugas or ages, which descend from best to worst: the Krta Age, or Satya ("Truth") Age, a Golden Age; the Treta Age; the Dvapara Age; and the last and present age, the Kali Age. The present Age is the worst of them, when virtue is all but forgotten, people have too many children, and mankind will be destroyed. But Her destruction also holds the seeds of renewal: the black subterranean waters of hell that hold the embryos of demons are understood to be a part of Kali.
Devi takes many other forms including Parvati "Daughter of the Mountain," Bhairavi "Terror," Ambika "Little Mother," Sati "The Good Woman," Gauri "The Golden One," Uma the Gracious, and Durga "The Inaccessible."
Also called: Kali Ma, the Black Mother, Sleep, Night, Death, the Mother Born of Anger, the Cruel Daughter of the Ocean of Blood.
To read Her story, go here.
This design is available on prints through Society 6 and on greeting cards at Zazzle.