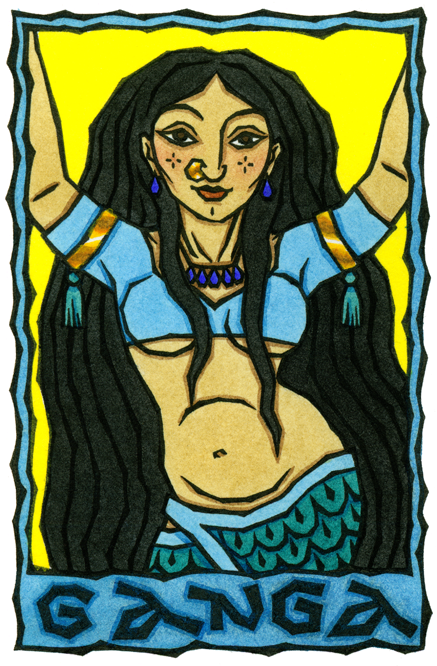 I dance the sacred into being.

Ganga, "the Swift Goer" is the Hindu Goddess of the holy Ganges River, Who purifies with Her touch. She is the daughter of Mena and of Himavan, God of the Himalaya Mountains, and is sister to Parvati, the wife of Shiva, Who takes many forms, including Uma.
Ganga's waters descend from the heavens, flow across the earth, and eventually find their way to Patala, or the Underworld (some say the bottom of the ocean). When She first fell from Heaven, the Gods feared that Her torrent would be too powerful and would flood the earth, so the God Shiva volunteered to help. He placed Himself below Her cascading waters as a buffer, and Ganga fell upon His hair, which on the ascetic Shiva was so tangled it was years before She found Her way out. Some statues of Shiva show a little Ganga-figure peeking out from His hair. Eventually She was divided into seven streams to lessen Her impact.
In the south of India She is shown as a mermaid, the lower half of Her body a fish's.
Drawing this card in a reading indicates a cleansing process, a time of purification that may lead to a rebirth. It is a time of identifying the holy and sacred in your life.
This design is available on prints at Society 6 and on greeting cards through Zazzle.