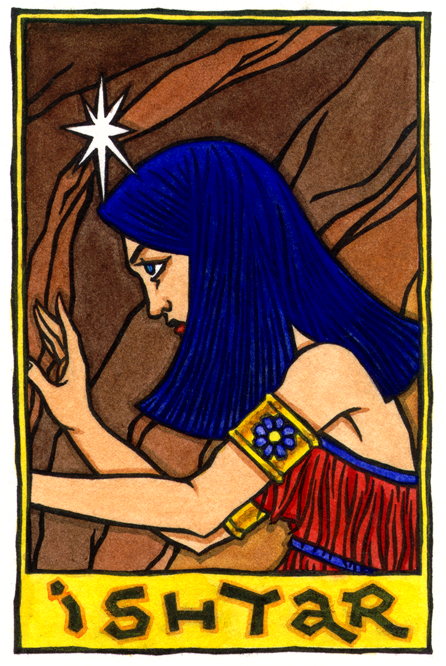 I am on a journey of Love.

Ishtar is the Babylonian Goddess of love and war, embodied in the two aspects of the planet Venus—as Evening Star, She brings lovers to celebration and bed; and as the Morning Star, She brings the fiery sword of War. She represents one of the many faces of the ancient near eastern Great Goddess, among them the Phoenician's Asherat or Ashtoreth (in Greek Astarte) and Anat, Sumerian Inanna, Anatolian Kybele, and Greek Aphrodite, most of Whom share legends of dying and resurrected lovers.
As Goddess of love and sex, Ishtar is the force that draws mates together and brings fertility, both for humans and animals. She is Goddess of courtesans, and She Herself took many lovers.
As Goddess of war, Ishtar takes part in battle and is shown standing on the back of a lion bearing bow and arrows. She was known for a fiery and fickle temper which usually spelled doom for Her lovers.
One of Ishtar's lovers was the grain God Tammuz. He died young (as the grain is cut just as it reaches the perfection of ripeness), and some legends imply that Ishtar had a hand in His death. But Ishtar was inconsolable and determined to fetch Him back from the Underworld. At each of the seven gates of the Land of the Dead, Ishtar, like Inanna, was required to give over an article of clothing or jewelry until finally She came naked and humbled before Her sister Queen Ereshkigal, Who then imprisoned Ishtar.
The world mourned for the lost Goddess of love, and Her father Sin the moon God sent an envoy armed with powerful magic which successfully rescued Her. Tammuz was eventually also brought back to live in the land of the Gods. The descent of Ishtar was celebrated annually in Babylonian lands.
Ishtar in a reading indicates courage and commitment, of rebirth and the death that must precede it. In this dark journey, remember, you will always carry your own light.
Epithets: The Star of Lamentation, Lady of Battles, Courtesan of the Gods
To read Her tale, go here.
This design is available on prints through Society 6 and on greeting cards through Zazzle.