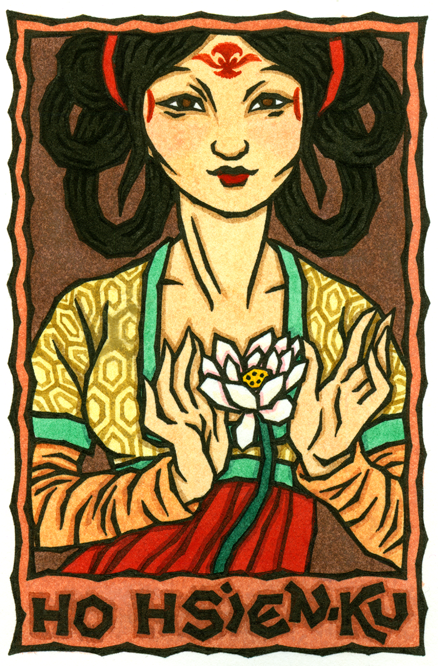 Open the lotus of your heart.

Ho Hsien-Ku ("the Immortal Maiden Ho") is one of the Pa-Hsien, or Eight Immortals of Taoist legend, and usually the only female one (depending on how Lan T'sai-Ho is feeling that day). She is said to have attained Heaven in broad daylight, and is usually shown with a lotus flower or a peach, symbolizing eternity. The Eight Immortals were first recorded in the Yuan dynasty (13th-14th century), and are said to bring happiness and luck. Pictures and statues of Them are still very popular.
Ho Hsien-Ku was believed to have lived in the 7th century at the time of the Empress Wu. She is also said to have just six hairs on Her head, though She is always shown as a beautiful woman with plenty of hair.
Ho Hsien-Ku was the nurse of T'ai Sui, God of the heavens and time, Who corresponds to the planet Jupiter.
This card can be a recommendation that a situation can be eased or resolved through trust, willingingness, and open-heartedness.
This design is available on prints through Society 6 and on greeting cards at Zazzle.