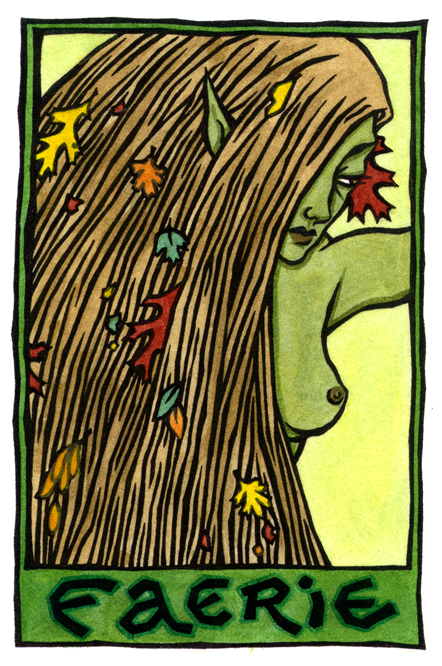 I am everywhere surrounding you.
I cross your path every day.

The word Faerie can refer both to the supernatural wild folk of the land and their magical realm itself. The peoples of Faerie are very varied and are found in many cultures, but are especially celebrated in Celtic lore. Faeries range from the noble Tuatha Dé Danann of Irish legend, said to be children of the Goddess Danu, through the solitary bean sidhe who predicts death, to the vampiric glaistig of Wales, to the merry piskies. They sometimes have contact with humans, though there is usually an element of danger in our meetings.
Faeries have mythological roots in several areas: they may represent folk memories of earlier peoples such as the builders of the megalithic monuments of western Europe; or the pagan Gods, reduced in stature with the coming of Christianity though not forgotten; or they are linked with the dead--the Otherworld and other Faerie places are sometimes equated with the afterlife, for example Arianrhod's Caer Sidi; and/or they are spirits of the land, symbols of the vitality and power of Nature.
"Faerie" is derived from the Latin fata, fate, which hints that our treatment of this wild earth is intertwined with our own fate as humans.
This card in a reading is telling you that you need to pay more attention to magic in your life. The wild beauty of nature is calling to you, and its vibrancy and centering effect can reinspire and help you to bring a new vision into being.
This design is available on prints over at Society 6 and on greeting cards through Zazzle.