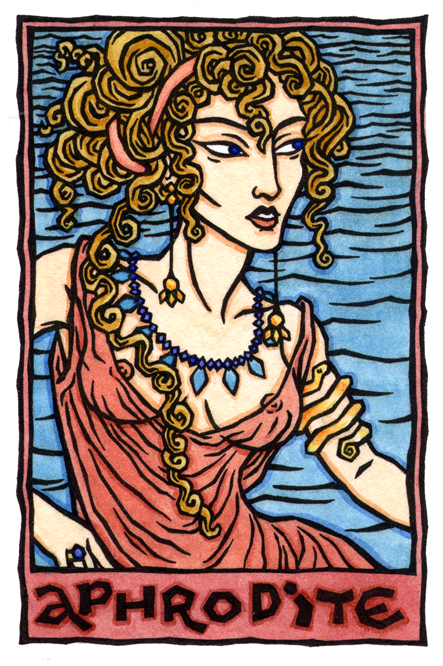 I am the body of Love.

Aphrodite is the Greek goddess of love and beauty, one of the twelve Olympian Gods. In the Iliad, She is the daughter of Zeus and the Titoness Dione, though the usual legend is that She was born from the blood and foam on the surface of the Sea after Ouranos was castrated by Kronos. She represents the creative powers of nature and the sea.
Graceful and gorgeously seductive, Aphrodite possessed a magic girdle that made Her irresistable to all who saw Her (and which She often lent out to other Goddesses such as Hera). She was officially married to Hephaestos, the God of the forge, though Her numerous affairs resulted in numerous children. By Ares she bore Phobos ("Fear") and Deimos ("Terror"); by Hermes, Hermaphrodite; by Dionysos, Priapos; and by Anchises, a mortal, the hero Aeneas.
Born from the Sea, she is also Goddess of sea-voyages who protects sailors and seamen.
Offerings to Aphrodite include flowers and incense.
Some of Her myriad epithets include: Doritis ("Bountiful"), Pontia ("Of the Deep Sea"), Pasiphaë ("Shining on All", also the name of the mother of Ariadne), Ourania ("the Heavenly"), Aphrogeneia ("Foam-born"), Anadyomene ("Rising From the Sea"), and Pornos ("Whore").
To read Her tale, go here.
This design is available on prints through deviantArt and on greeting cards at Zazzle.