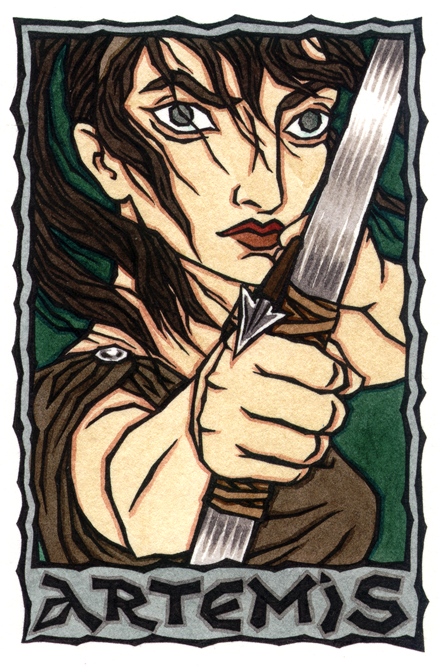 Defend your boundaries!

Artemis is the Greek Goddess of the wild things, the deep forests and the chase. She is sometimes, though not invariably, connected with the moon, as Her brother Apollo is sometimes associated with the sun. She is a solitary virgin Goddess, bearing bow and arrows to hunt animals, and like Her brother is also said to cause disease and sudden death with them. The sixth day of the lunar month is dedicated to Her, when the moon is a perfect little crescent, not quite half full.
Artemis is the guardian of wild spaces and new life, such as bear cubs and fawns. She is the special protectress of children, and was invoked by women in childbirth as a midwife, for it was said She helped to deliver Her twin Apollo, though She was only a day old Herself.
She is an energetic and athletic Goddess, personifying the wild feminine spirit, independent and active and able to defend Herself.
Artemis represents a connection to the wild places and nature, and Her presence in a reading indicates that you need to get out in Nature, and that at this time blessed solitude needs to be a priority in your life.
Some of Her many epithets include: Calliste ("Fairest"), Elaphebolos ("Shooter of Stags"), and Agrotera ("Huntress"). The Romans equated Her with their Diana.
This design is available on prints through deviantArt and on greeting cards through Zazzle.