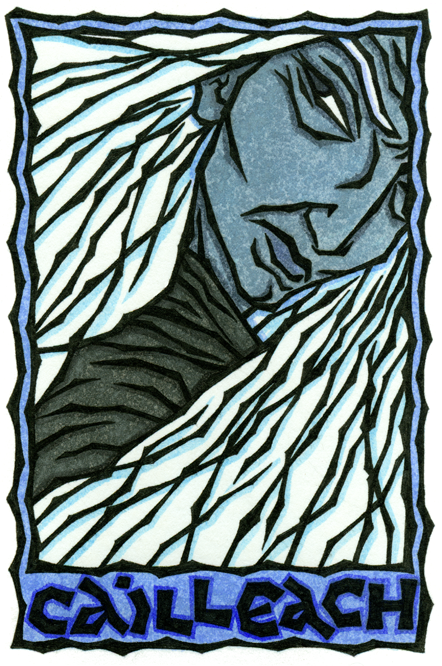 I reside in each warm heart.
"Cailleach" derives from the old Irish caillech, or "the veiled one." The modern word cailleach means "old woman" or "hag" in Gaelic. The Cailleach is a widespread form of Celtic hag Goddess tied to the land and the weather Who has many variants in the British Isles.
The Caillagh ny Groamagh ("Gloomy Old Woman", also called the Caillagh ny Gueshag, "Old Woman of the Spells") of the Isle of Man is a winter and storm spirit whose actions on the 1st of February are said to foretell the year's weather--if it is a nice day, She will come out into the sun, which brings bad luck for the year. The Cailleach Uragaig, of the Isle of Colonsay in Scotland, is also a winter spirit who holds a young woman captive, away from her lover.
The theme of winter holding spring captive is also seen in the tale that the Cailleach imprisons the beautiful young Goddess Bride inside of a mountain over the winter. At Bride's release, spring comes to the world.
The Cailleach Bheur ("Genteel Old Lady") of Scotland is a blue-faced hag of winter, who ages in reverse--from old and ugly (symbolizing winter) to young and lovely (spring). The Cailleach Bhéirre of Ireland represents sovereignty over the land and is ancestress of many peoples. Like Dame Ragnell of the Arthurian legends, She appears to the hero as an hideous old woman seeking love; if She gets it, She becomes a beautiful young woman. In legends dating from Christian times, She is sometimes said to be a nun, perhaps linked to the meaning of Her name.
Getting the Cailleach in a reading indicates a time of winter. Peer into the darkness to find the old and ancient bones. What do they cage? What new thing can they support? Is the Cailleach holding beautiful spring captive, or will time transform the Hag Herself into spring?
Alternate names: Cailleach Bheur, Cailleach Uragaig, Cailleach Beinne Bric ("Old Woman of the Speckled Mountain"), Cailleach Mor ("Great Old Woman") (Scotland); Cailleach Bheirre, Cailleach Bolus, Cailleach Corca Duibhe (Ireland); Caillagh ny Groamagh, Caillagh ny Gueshag (Isle of Man).
This design is available on prints through Society 6 and on greeting cards at Zazzle.