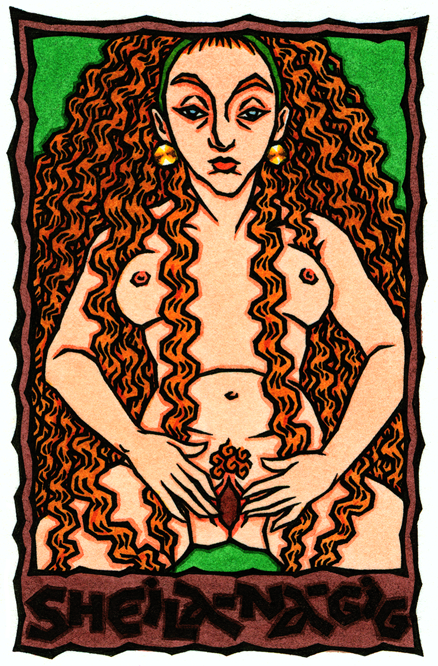 I am the entire Universe within the Void.

The Sheila-na-gig is a figure from medieval stone carvings of the British Isles (mostly Ireland), of a grinning woman holding open Her vulva. She is regarded by some as a gargoyle-like figure meant as a medieval allegory of lust, or as a magical figure meant to cure infertility in women, but others have seen in Her an echo of the ancient Irish earth mother.
The word "gyg" is Norse for giantess, in other words, a supernatural or deified female, while "Sheila" is a woman's name used as a word for "girl."
The vulva as holy symbol of birth and life is a very ancient idea that symbolizes the life-giving and regenerative powers of the Earth Mother. The image of the vulva has a long history of being carved in stone, and is found all over Europe from the Paleolithic and Neolithic Ages. Passage graves were built in the shape of the Goddess, with the passage the vagina, and the tomb chamber itself representing Her uterus. "Tomb" and "womb" were equated, thus ensuring regeneration and continuity after death, in the same way that a "dead" seed is planted in the fertile earth and sprouts up to grow into a complete plant.
Despite the fact that to modern eyes Her pose is "obscene" the Sheila-na-gig is most predominantly found carved in the decoration of churches.
This card in a reading indicates old and ancient themes that lie beneath the roots of the current situation. For example, the instinctual desire to have children may be dictating more of your life than you are aware, or sexual desire may be pulling the strings. Also, this card asks that you reexamine your ideas of what is "obscene" and what is "proper."
Alternate spellings: Sheela-na-gig, Sheela-no-gig, Sheelanagyg, Irish Síle na gCíoch "Sheila of the Breasts"