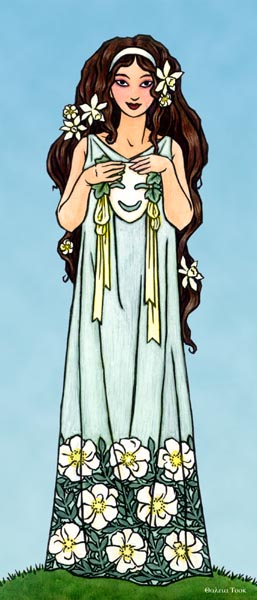 My namesake, and one of my favorite Goddesses, Thalia is the Muse of Comedy, She who inspires comedy. She is shown here with the comic mask of the Dionysian rites, and in Her hair are narcissi and roses, both the variety called Thalia.
The name Thalia can be interpreted several ways--"The Luxurious One", "She Who Flourishes", "She Who Brings Flowers", "Luxurious Growth" are some of them, all encompassing ideas of growth and blooming.
Thalia can refer to either one of the nine Muses or one of the three Graces. Both hang out on Mt. Helicon, and I have a sneaking, though unprovable, suspicion that they are one and the same.
See also my drawing of the Nine done for a newsletter cover.
See also the similarly named Etruscan Goddess Thalna.